America Should Have Bought the Extended Warranty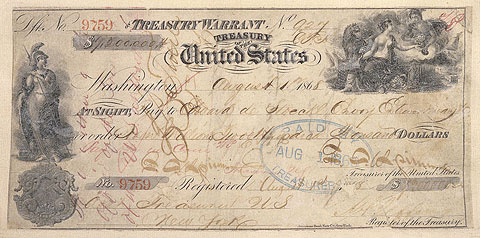 Our guest columnist this morning is Mr. Gordon Warren Epperly of Juneau, Alaska. While unknown to the general public, Mr. Epperly is said to be prominent in the Birther Movement.
December 20, 2010
Director, Gail Fenumiai
State of Alaska
Department of Elections
P.O. Box 110017
Juneau, Alaska 99811-0017
In Reg: Objection to Certification of Elections
Dear Director of Elections, Gail Fenumiai
We just finished up a contentious election for the Office of Senator for the Congress of the United States. It appears that Lisa Murkowski has received the majority of votes cast, but there is a problem — Lisa Murkowski is not qualified for the Office of U.S. Senator as she is not a citizen of the United States under Article I of the Constitution for the United States.
Enclosed is a "Proclamation" declaring the political privileges of candidates to hold public offices of the United States. The "Proclamation" shows that U.S. Congress has never made provisions in the U.S. Constitution for women or non-white citizens to hold public offices.
Objection is made against the issuance of any "Certificate of Election" until the U.S. Senate has made an investigation into the office qualifications of candidate Lisa Murkowski. As the U.S. Constitution at Article I, Clause 5, Section 1 declares that each house of Congress shall have exclusive authority to determine the eligibility of its members, the Alaska State Department of Elections shall forward a copy of this "Letter of Objection" with a copy of the enclosed "Proclamation" to the U.S. Senate for purpose of making an investigation into the eligibility of office for Lisa Murkowski. The results of this investigation shall be issued and reviewed before the Alaska State Department of Elections issues forth a Certificate of Election. The years that Lisa Murkowski [usurped] the Office of U.S. Senator have no relevance on the qualifications of office nor the authority of the U.S. Senate to make investigations.
/s/ Gordon Warren Epperly
In the spirit of Mr. Epperly's inquiry, Stinque conducted a Special Investigation that conclusively proved Alaska was not an American state prior to January 3, 1959, and in fact was Russian territory not only prior to August 1, 1868, but at the adoption of the Constitution. We are forced to conclude that Mr. Epperly is an Illegal Alien who has committed voter fraud against the United States of America. The FBI has been notified.
Add a Comment
Please
log in
to post a comment