Keeping Kansas Klassy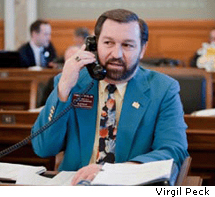 Kansas State Rep. Virgil Peck (R-No Fashion Sense) yesterday suggested in an appropriations committee hearing on funding for a program to control feral pigs that the state's population of undocumented immigrants could be similarly controlled — through hunters shooting at them from helicopters.
Peck refused to apologize for his comments, later saying, "I was just speaking like a southeast Kansas person," and that he was just joking.
Your Stinque News Team is researching whether the Westboro Baptist Church is part of his constituency.