I Have a Homeopathy Degree — in Politics!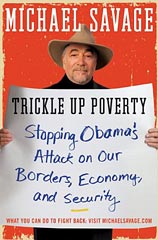 Title: "Trickle Up Poverty: Stopping Obama's Attack on Our Borders, Economy, and Security"
Author: Michael Savage
Rank: 1
Blurb: "Trickle Up Poverty, by bestselling author and revered radio host Dr. Michael Savage, is your best defense against the Obamanomics that are dragging the middle class, and everyone else, into a Marxist-Socialist death spiral."
Review: "Listening to him talk about how he would put a blockade at the Strait of Hormuz so Iran could not get any oil in or out and how he would bomb their ports is ingenious."
Second Review, Because We Can't Decide Our Favorite: "I have done my homework and read some of the opposing viewpoints, namely the Communist Manifesto and the like."
Third Review, Because We Have No Editorial Discipline: "I am a gay, gun-owning, award-winning libertarian Democrat. I admit these qualifiers only to show that the appeal of 'Trickle Up Poverty' by Michael Savage isn't limited to political conservatives."
Obligatory Glenn Beck Tie-In: "Savage complains that 'the hemorrhoid with eyes,' presumably Beck, rips off his show, but nonetheless questions Beck's sanity." —April 7, 2009
Customers Also Bought: "Atlas Shrugged (Cliffs Notes)," by Andrew Bernstein.
Footnote: Michael Alan Weiner has a doctorate in "nutritional ethnomedicine" from Berkeley.
Buy or Die [Stinque@Amazon kickback link]
Add a Comment
Please
log in
to post a comment