I.N. Hagan House
Another Frank Lloyd Wright masterpiece I visited a few times in 2000 and 2001 – it's in Western PA, about 10 minutes from Fallingwater.  I took a few photos, as you might imagine. This is the front of the house – the carports (Wright refused to build garages lest they fill up with crap) are off to the left.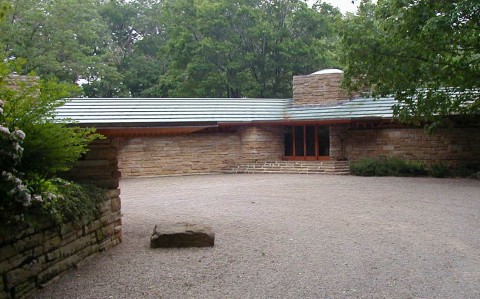 Yet the house looks like a fortress on the approach.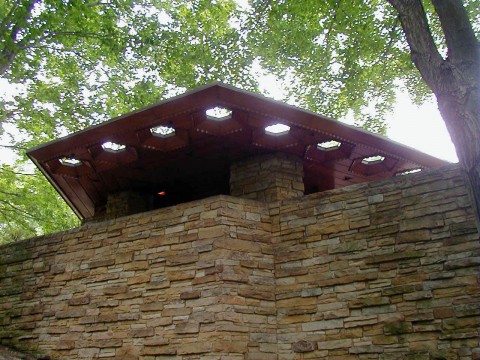 The house was built on a hexagonal plan, as you can see by the skylights cut into the roof: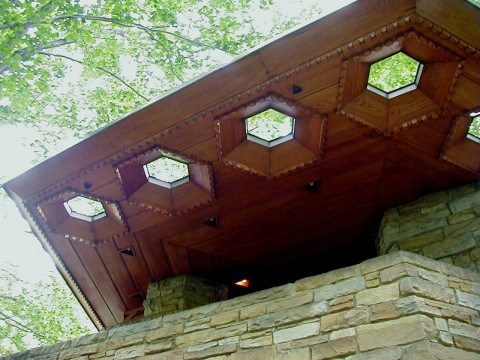 On the back porch, the skylights create a wonderful effect: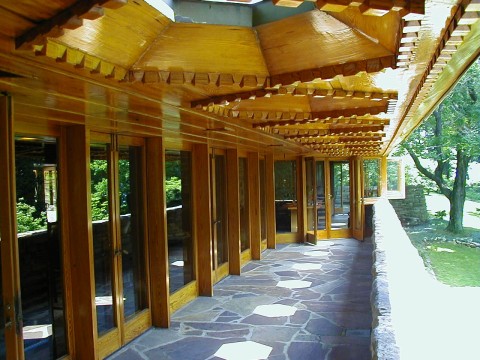 You are not permitted to take photos inside.  The house is owned by a British Lord and 'architecture collector', and he's worried about security. Still, I could not resist (urged on by a renegade tour guide) taking this photo in the master bedroom.  It's the corner of the house – yet Wright has thrown away the corner with his use of beveled glass.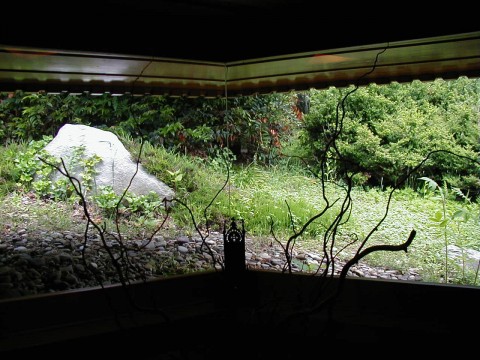 Lots of these windows at Fallingwater as well – I'll post those photos as soon as I convert them from PDDs.
Another note about the back rooms, including bedrooms: the guide told me that Wright had "client-proofed" the house, in other words, configuring the furniture and the doorways so that the owner could not get the furniture out of the room Wright thought it should be in … controlling, anyone?
And this house was built on a large hill, but Wright did not build on the very top of the hill because, as he said, "you lose the hill."  Here's the view from the backyard: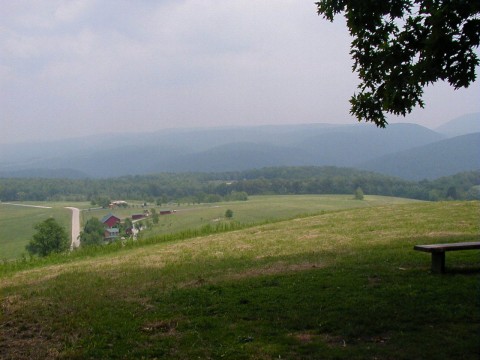 And here's the backyard:
The owners, the Hagans, had a dairy.  When Wright insisted on his trademark Cherokee Red floors, Mr. Hagan objected, saying he'd worked in red-floored dairies all his life – he demanded, and got, slate floors.  It was always difficult to get concessions from Wright, but the house also has a small basement, which makes it unique – Mr. Hagan won again.  The basement is filled with plans for various Wright buildings that the current owner collected, and even though I was not supposed to see them, the guide let me leaf through them – it was her last day.  Glorious. If you can see this house, see it.  It's one of Wright's most impressive creations, in my opinion
One more thing – this house got the signature tile that Wright's houses were supposed to have, but it usually got left out for some reason.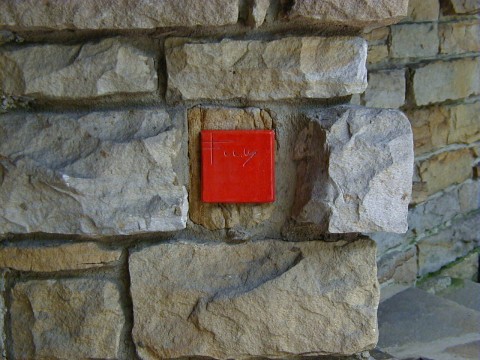 One more thing – a 10-year-younger me hanging out on the porch, wondering how much it would cost to reproduce the house in, say, Dutchess County.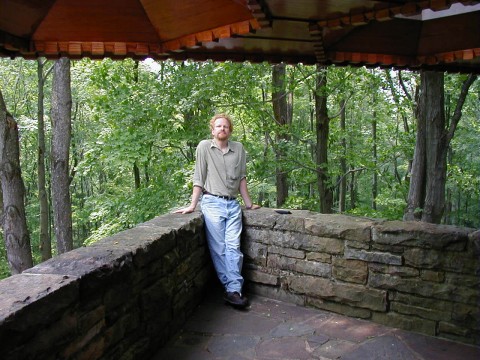 Add a Comment
Please
log in
to post a comment