A Libertarian Wet-dream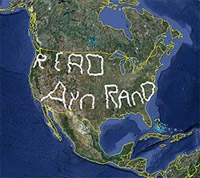 The New York Times has a story today on the hottest new trend in Emergency response: fee for service.
ABOUT a year ago Cary Feldman was surprised to find himself sprawled on the pavement in an intersection in Chicago Heights, Ill., having been knocked off his motor scooter by the car behind him. Five months later he got another surprise: a bill from the fire department for responding to the scene of the accident.

"I had no idea what the fire truck was there for," said Mr. Feldman, of nearby Matteson. "It came, it looked and it left. I was not hurt badly. I had scratches and bruises. I did not go to the hospital."

Mr. Feldman had become enmeshed in what appears to be a nascent budget-balancing trend in municipal government: police and fire departments have begun to charge accident victims as a way to offset budget cuts.
The paper of record says these fees are a response to "budget cuts" and does not tie them specifically to tax policy, but it is undeniable that as the demand for unsustainably low levels of taxation continues to gain a foothold in the American psyche, and as the peculiar notion that progressive taxation is unfair becomes a more prevalent phenomenon, we are likely to see more, not less, of this sort of thing.
When a service cannot be privatized altogether, user fees have always been and continue to be the Libertarian's favorite method of revenue collection, the toll booth his model for the ideal Internal Revenue Agency. It is not difficult to understand why. As you wait in line at the tollbooth look around you and you'll notice how regressive a tax it is: the contractor in the beat-up 1998 Ford F-150 pickup truck is going to pay the exact same charge for using the road as the Dentist  three cars back in his $120,000 Porsche 911 GT3.
User fees are, of course, nothing new to the American taxpayer. As a graduate student in Charlottesville, VA in the mid 1990's I found myself living in a town where garbage collection was paid for, not through general fun revenues, but by placing stamps on bags you wished to be picked up. The stamps themselves (yellow tie-wraps, actually) could be bought at most convenience stores and cost differently depending on whether they were to be used on a 13 or  a 33 gallon trash bag. But the net effect of the policy is always the same: any time government services are paid for by user fees instead of through the general revenue the result is that the net tax burden has been lowered on the wealthy while taxes have been raised on everyone else.
Of course, libertarians will counter that the sting of these new fees can be lowered by privatizing service delivery. Perhaps to some extent, yes, but ask yourself why and you may not like the answer as much: what used to be a comfortable, secure government job with good benefits that a worker could raise a family and retire secure in the knowledge that his pension will sustain him through his autumn years is now being performed by wage slaves laboring for the minimum wage with no pension benefits to cushion their retirement and minimal, if any, health benefits. And so the net drain of wealth from the working classes to wealthy elite is only further exacerbated.
It is not clear where this will all end up. The truth is that, though billions of dollars of propaganda is thrown at the American public every year promoting these ideals, in fact, once citizens begin to realize the true repercussions of Libertarian government they are not nearly as enamored of the practice:
The finger-pointing has left cities like Denver trying to figure out what to do. This year, the city considered fees for nonresident, at-fault drivers, said Eric Brown, a spokesman for Mayor John W. Hickenlooper. Mr. Brown said the city stood to recover about $500,000 a year for fire services.

But the proposal was criticized by taxpayers and the media. In an editorial, The Denver Post described the idea as unfair and unwise, saying it would put taxpayers "financially on the hook for supporting emergency services twice."

The city decided not to decide.

"We shelved it for this year," Mr. Brown said.
With Tea Party activists rewriting GOP platform documents to promote such absurd, a-historical nonsense as a "Return to the principles of Austrian economics" and with the GOP poised to make massive electoral gains in November it's doubtful we're that near the point where the vast majority of Americans realize the extent to which the rich are grabbing them by the ankles and shaking them for the pocket change they've still got left. The day will come, no doubt, but right now that day seems quite a ways off.
In the meantime it's a great time to be rich in America. But then, what else is new?
Add a Comment
Please
log in
to post a comment