No More Friedmans?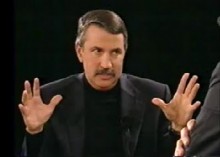 We have been reliably informed that the Iraq War is over but, as Atrios points out, we have left the usual contingent of troops behind. He decided to resurrect some old Richard Cohen, but we dug up some vintage Friedman (he of the 6 month moving deadline):
This column has argued throughout this debate that removing Saddam Hussein and helping Iraq replace his regime with a decent, accountable government that can serve as a model in the Middle East is worth doing — not because Iraq threatens us with its weapons, but because we are threatened by a collection of failing Arab-Muslim states, which churn out way too many young people who feel humiliated, voiceless and left behind. We have a real interest in partnering with them for change.
This column has also argued, though, that such a preventive war is so unprecedented and mammoth a task — taking over an entire country from a standing start and rebuilding it — that it had to be done with maximum U.N legitimacy and with as many allies as possible.
The column is the usual on-the-one-hand on-the-other-hand Friedman nonsense.  In the main, however, we must remember that he came down on the side of murdering a few hundred thousand innocent Iraqis and sending more than four thousand soldiers to die needlessly.
But he's got his Pulitzers!
Add a Comment
Please
log in
to post a comment