Nice Lady Nominated for Supreme Court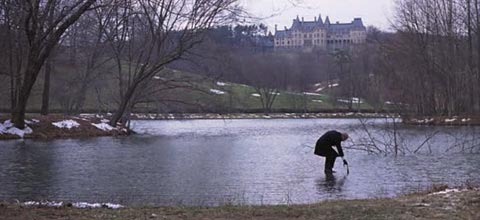 We won't recap Glenn Greenwald's argument against Elena Kagan here, but his most notable assertion is that nobody knows who she is. Sure, we know her resume, and she's best buds with a lot of folks, but she's something of a Chauncey Gardiner when it comes to divining her positions on legal issues. (We prefer that to the Harriet Miers comparison — Kagan's actually competent at what she does, by all accounts.)
But if you don't want to hear it from Greenwald, here's Jeffrey Toobin making the same point from a much friendlier perspective:
I met Elena on our first day of law school at Harvard in the fall of 1983…

Elena danced at our wedding in 1986. When my wife, Amy, and I bought our first apartment, Elena's father was our lawyer; he had a small real estate law firm in New York. (He died in 1994.) When Elena's mother died last year, I sat shiva with the family in the apartment where she grew up on the West Side…

All of this may be interesting, but it's largely beside the point for a Supreme Court Justice. The justices are not really managers of people, certainly not in comparison to the dean of a major law school. Judgment, values, and politics are what matters on the Court. And here I am somewhat at a loss. Clearly, she's a Democrat. She was a highly regarded member of the White House staff during the Clinton years, but her own views were and are something of a mystery. She has written relatively little, and nothing of great consequence.
We won't go as far as Greenwald and call Kagan's supporters mindless camp followers. We'll just wait for some basis to form a judgment. From what we've read so far, none is on offer.
Add a Comment
Please
log in
to post a comment