What Not to Wear to Disneyland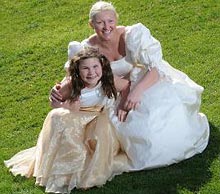 Isn't that sweet? Natasha Narula got all dolled up in a princess dress to take her daughter to Disneyland Paris. But when they reached the gates of the Gauloises Kingdom, they were taken aside by, um — okay, let's choose Jafar — who told Mum she could take her copyright-infringing outfit somewhere else:
'Being pulled aside by the security team was so humiliating,' she said. 'They said to me, ''You can't get in here looking like that''. I was wearing a silly, puffy-sleeved wedding dress with a birthday badge and Mickey Mouse ears. I hardly looked like Princess Belle from Beauty and the Beast.'
Please, don't judge: Mum bought the "totally hideous wedding dress" for twenty quid at Oxfam. She knows it was tacky. That was the point.
Perhaps she should have tried Jessica Rabbit instead. Looks like she could rock a glittering bustier.
Which Disney Villain Are You? [BrainFall]
Add a Comment
Please
log in
to post a comment