Douchebag of the Day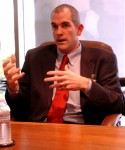 Arlington, Tennessee Mayor Russell Wiseman:
In the opinion of Arlington Mayor Russell Wiseman, President Barack Obama's speech on Tuesday night on the war in Afghanistan was deliberately timed to block the Christian message of the "Peanuts" television Christmas special.
It seems the liberal War on Christmas has escalated ….
Wiseman made the statements on his Facebook page, where he declared Obama to be a Muslim. Only people on Wiseman's "friend's list" had access to the post. He has more than 1,600 friends on Facebook.

"Ok, so, this is total crap, we sit the kids down to watch 'The Charlie Brown Christmas Special' and our muslim president is there, what a load…..try to convince me that wasn't done on purpose. Ask the man if he believes that Jesus Christ is the Son of God and he will give you a 10 minute disertation (sic) about it….w…hen the answer should simply be 'yes'…."
Geeze, and I thought South Carolina politicians were bad.
When contacted Thursday, Wiseman declined to comment about his Facebook posts.

"It's ridiculous for someone to send my Facebook post," Wiseman said. "You guys are trying to make a mountain out of a molehill."
But wait – I thought Sarah Palin said that stuff was fair game.
[via]
Add a Comment
Please
log in
to post a comment