The Irony Impaired…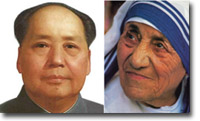 When you think of communist leader Mao Tze Tung, who else is the first person to pop into your head? That's right: Mother Teresa. And the converse, of course, is also true. When I think of Mother Teresa, images of Chairman Mao just naturally pop into my head.  The association between these two leaders is simply inescapable. So it's more than understandable that when an Obama Administration official compared the two figures in a speech, the right-wing blogosphere and Fox News' Glenn Beck went ballistic, correctly inferring that there was no irony intended by White House communications director Anita Dunn when she cited Mao and Mother Theresa to drive home a point about doing "things that have never been done before."
The first to fly into a righteous fit of patriotic rage was the right-wing tearmaster Glenn Beck. Taking a few minutes out of his busy flu-vaccine scaremongering, Beck played a brief clip of Dunn's speech and howled at just how inappropriate it was to worship at the feet of Mao Tze Tung –as Dunn clearly does, given that she's memorized a whole entire quote of his and can recite it from memory at cocktail parties and in the speeches she gives. Of course, skeptics might wonder why Beck took Dunn's comments at face value when the church audience she was addressing broke out in laughter at the comment.  But never mind. Beck was once a stand up comic. He knows funny. The audience clearly does not, laughing inappropriately at totally serious praise for a mass murderer and his veiled, wrinkly faced, Catholic accomplice.
Well, after Glenn Beck had his turn, Roger Kimball, at Pajamas Media went him one better, savaging Dunn for referring to Mao as a "political philosopher" which, everyone knows, he wasn't:  in fact, Mao spent most of his formative years helping out with his dad's landscaping business in Allentown, PA, when he wasn't out murdering Chinese peasants.
The American Spectator's Joseph Lawler then weighed in, correctly noting that since Dunn has a vague idea of the circumstances under which Mao made the statement she quotes, she must absolutely be in love with the guy and wants to bear his children, and has probably gone out and murdered a few Chinese peasants herself on occasion. When readers pointed out that Republicans are kinda fond of quoting Mao, too, Lawler notes, insightfully, that the difference is that Dunn loves Mao and mass murder whereas the GOP loves America, so it's totally not the same.
Don't count out National Review's "The Corner," of course. Blogger Jeffrey Norman was the first to point out the hypocrisy of those who think it's OK to jokingly call Mao a "great philosopher" (which Dunn totally did, even if she didn't actually use the word "great") but are scandalized that Rush Limbaugh doesn't want to blow Donovan McNabb.
And what does Anita Dunn think about all this? When interviewed on the subject by CNN, Dunn delivered a four hour scholarly oratory on the greatness of the Cultural Revolution and recited every word of Mao's Little Red Book from memory, in Cantonese and Mandarin, before unconvincingly insisting that she was just joking.
Serolf Divad is busy guarding America from Shining Path guerillas and their Maoist overlords in the Obama administration.
Add a Comment
Please
log in
to post a comment