Ick. Ick. Ick. Ick. Ick.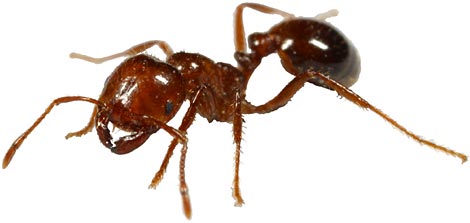 Well, of course a story with "zombie ants" in the headline is going to attract us. And of course the details of interspecies insect carnage are going to gross us out. But here's the thing: We can't help reading it.
Nor can we help sharing it. Please — please — swallow your coffee before continuing. And if you know Sam Raimi's number, dish.
Ready? We're serious: Are you ready to have any and all proximate meals ruined? Okay, then. Strap in!
So here's the problem: America is being invaded by a Red Menace — fire ants. Not only are ants socialists by nature, fire ants in particular are impervious to traditional means of eradication, usually involving homeschooling and Baptist preachers.
But professional exorcists at UT Austin and Texas A&M have discovered a new ally in the holy war against Satan's picnic bummers: tiny phorid flies from South America.
Here's how it wor— you have swallowed, right? Okay, here's how it works:
The flies "dive-bomb" the fire ants and lay eggs. The maggot that hatches inside the ant eats away at the brain…

The maggot eventually migrates into the ant's head… There is no brain left in the ant, and the ant just starts wandering aimlessly…

About a month after the egg is laid, the ant's head falls off and the fly emerges ready to attack…
Just so we're clear: maggots hatch inside you and eat your brains, leaving you to wander aimlessly until your head falls off.
Which, come to think of it, explains the current state of the Republican Party.
Add a Comment
Please
log in
to post a comment