China Myths: #46
Last week we debunked the myth that if every man in the PRC Armed Forces jumped at the same time, it would tilt the Earth's axis of rotation (fact: since the Earth already rotates on as  axis that is tiled 23.5° from center, the act would actually straighten the planet's rotation). In this week's installment of our long running series "China Myths," Stinque takes a look at the widely held belief that were China to dump all its U.S. Treasury bills onto the market at once, it would eviscerate the dollar and devastate the U.S. economy. This long held belief is, in fact, a myth. Allow Princeton economist and Nobel Laureate Paul Krugman to explain:
In the early years of this decade, China began running large trade surpluses and also began attracting substantial inflows of foreign capital. If China had had a floating exchange rate — like, say, Canada — this would have led to a rise in the value of its currency, which, in turn, would have slowed the growth of China's exports.
But China chose instead to keep the value of the yuan in terms of the dollar more or less fixed. To do this, it had to buy up dollars as they came flooding in. As the years went by, those trade surpluses just kept growing — and so did China's hoard of foreign assets.
The net result was that China is, essentially, holding our balls in a  monetary vice grip and can castrate us any time it wants by dumping its dollar holding, right? Well, not so fast. As it turns out:
…there's nothing to keep China from diversifying its reserves away from the dollar…nothing, that is, except for the fact that China now owns so many dollars that it can't sell them off without driving the dollar down and triggering the very capital loss its leaders fear.
Ha, ha, ha! Turns out that if the Chinese were to dump all their dollar holding it would actually devastate both our economies! Too bad.  So sad.
How do you saw "Pwned" in Chinese?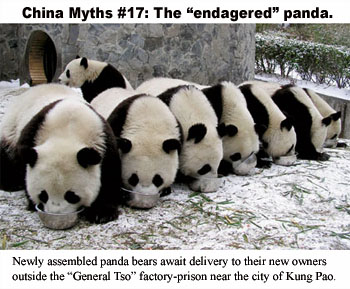 Next week "China Myths" will explore the widely held belief that Ethylene Glycol is bad for you.
Serolf Divad is an instructor of erotic massage at Long Island Technical College.
Add a Comment
Please
log in
to post a comment