Urban Outfitters for the Zionist Set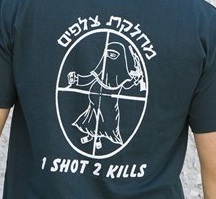 For some reason, probably because it's too liberal, the Israeli Military has condemned t-shirts such as the one in this picture. The t-shirts are worn by troops who have finished basic training or other courses, and there others in addition to the one shown, which I think is in support of pro-choice legislation, or something. Other options include a shirt depicting a child in a rifle's cross hairs, with text about how small targets are hard targets, or shirts showing Palestinian women crying and soldiers blowing up mosques.
Now that I've seen these shirts I've decided that the recent Israeli offensive in Gaza, and in fact everything that has happened or will ever happen in the Middle East, is not tragic at all. Instead, it is really, really, hilariously funny. Leave it to a cheap t-shirt to teach me an important lesson in the inherent humor value of religopolitical military conflict.
IDF: Soldiers' anti-Palestinian T-Shirts are 'tasteless' [AP]
Add a Comment
Please
log in
to post a comment