TRUMPLIGULA! THE CURSE OF AMERICA! MUST! FUCKING! GO!
HOW WILL THIS OOZING SCAB BE REMOVED?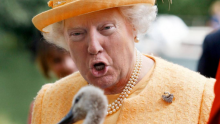 AMERICA! You have inspired the accession of a CALIGULAN! ORANGUTAN! to the seat of Emperor without any fallback plan, you know, in case that wasn't such a good fucking idea.
While TRUMPLIGULA! flings his moo with increasingly randomity and rage, we can only guess how this will end. In the following poll, we've omitted the obvious: thermonuclear war, nuclear winter and the end of life on earth.
The rest of the choices are more palatable and a good deal more entertaining.
Loading ...