Corporate Terror
Would a person who — as a result of his or her blind adherence to an ideology — sets off an explosion that registers as the equivalent of a 2.1 earthquake, killing at least 15 people, injuring more than 200 people, and incinerating more than 50 homes and businesses, be considered a terrorist?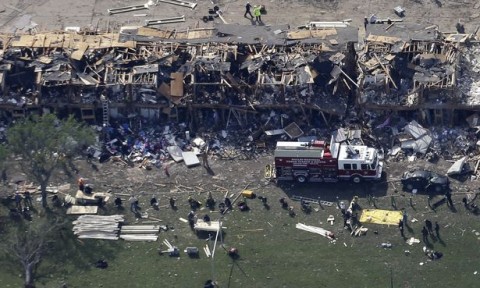 If corporations are people, my friend, then why are we not terrified by the thought of a lightly-regulated individual (biz-ness) that is focused on the ideology of maximizing profits actually handling dangerous chemicals?
Records kept by the federal Occupational Safety and Health Administration show that the last time the agency inspected the plant was 28 years ago. In that inspection, dated Feb. 13, 1985, the agency found five "serious" violations, including ones involving improper storage and handling of anhydrous ammonia and improper respiratory protection for workers. The agency imposed a $30 penalty on the company.

Last June, the company was fined $5,250 by the federal Department of Transportation's Pipeline and Hazardous Materials Safety Administration for violations involving anhydrous ammonia. An investigator reported the violations following an inspection of the plant in September 2011, and the agency later determined that the company had corrected the violations.
Something to ponder on 4/20 — no not for that 4/20 reason — I mean the 3rd anniversary of the Deepwater Horizon explosion that killed 11 people and fucked up the Gulf of Mexico, resulting in the largest environmental disaster in American history.
Add a Comment
Please
log in
to post a comment