Solomon R. Guggenheim Museum
Frank Lloyd Wright died in April of 1959, and the museum on Fifth Avenue was not completed until October. When Wright found out where the museum was to be built, he was glad that it would stand nearly across from the Metropolitan Museum and declared that "his museum" would make the Metropolitan look "like a Protestant barn."
This is a photo I took of the Guggenheim in 2003, using my crummy little Holga and standing in more than a foot of snow.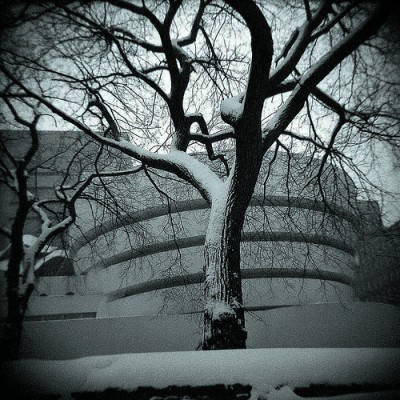 Wright did, in fact, get to stand on the roof and direct the construction.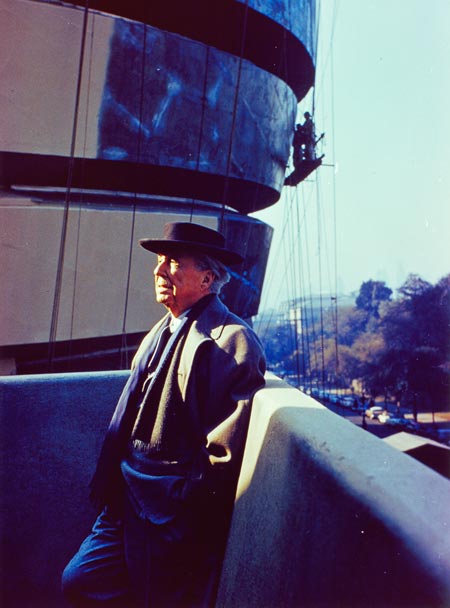 He stayed, of course, at The Plaza while the museum was being built.
Photography inside the museum is not permitted, so of course I have some interior shots for you. This is the ceiling – got on the floor on my back to get the shot: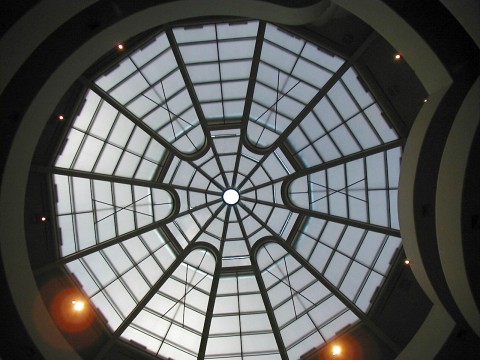 Here's a shot from the same position:
The artist Nam June Paik had an exhibit at the museum in 1999, and I snuck two shots from near the top.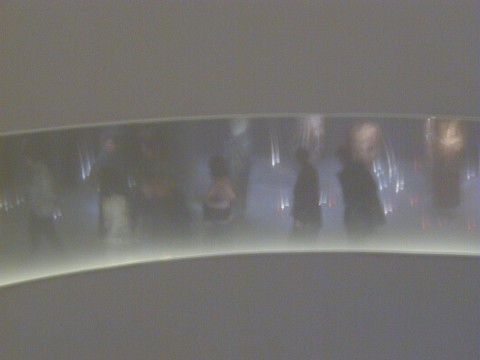 The aisles had fine mesh across them that produced the effect you see.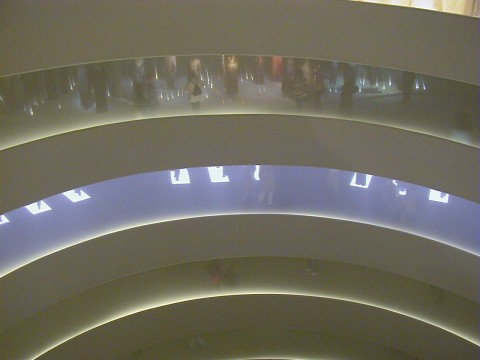 A little-known fact: although the exhibits all start at the bottom and draw you up the ramp, Wright meant for you to take the elevator to the top and descend through the exhibit. If he knew what the curators were doing, he'd be seriously pissed.
Also, when the design for the museum was revealed, artists such as Robert Motherwell and Willem de Kooning signed a letter-to-the-editor complaining about what they saw as the difficulty of exhibiting in the bays of the museum.  Wright responded by saying that perhaps the artists "would produce better art" if they knew it was to hang in "his museum." What an ego.
Add a Comment
Please
log in
to post a comment