Palin Sarah Dyslexic China GM Owned Obama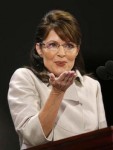 Sarah Palin brings the stupid again:
HANNITY: What do you make of – look at the state of the economy now...
PALIN: Well, when you consider that the federal government is about eleven trillion dollars in debt, and we're borrowing more to spend more.. it defies any sensible economic policy that any of us ever learned through college. It defies economy practices and principles that tell ya 'you gotta quit digging that hole when you are in that financial hole'
Palin continues:
"America is digging a deeper hole and how are we paying for this government largesse. We're borrowing. We're borrowing from China and we consider that now we own sixty percent of GENERAL MOTORS – or the U.S. government does… But who is the U.S. government becoming more indebted to? It's China. So that leads you to have to ask who is really going to own our car industry than in America."
China is now in the business of selling you Camaros and GMC Yukons. You heard it here first.
Add a Comment
Please
log in
to post a comment