RIP: Juan Williams NPR career (1999-2010)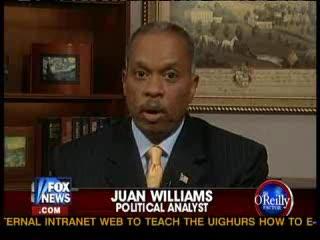 The New York Times reports that National Public Radio yesterday terminated its employment contract with contributor Juan Williams over comments he made on Bill O'Reilly's talk show expressing fear and mistrust of Muslims who dressed in traditional clothing:
The move came after Mr. Williams, who is also a Fox News political analyst, appeared on the "The O'Reilly Factor" on Monday. On the show, the host, Bill O'Reilly, asked him to respond to the notion that the United States was facing a "Muslim dilemma." Mr. O'Reilly said, "The cold truth is that in the world today jihad, aided and abetted by some Muslim nations, is the biggest threat on the planet."

Mr. Williams said he concurred with Mr. O'Reilly.

He continued: "I mean, look, Bill, I'm not a bigot. You know the kind of books I've written about the civil rights movement in this country. But when I get on the plane, I got to tell you, if I see people who are in Muslim garb and I think, you know, they are identifying themselves first and foremost as Muslims, I get worried. I get nervous."
Juan Williams and other non-partisan journalists' participation in Fox News roundtables have concerned media watchdogs for some time. The conservative opinion channel has long waged a dishonest propaganda campaign aimed at discrediting mainstream media organizations by labelling them as politically biased. One of the techniques the channel most frequently employs to propagate the idea consists of putting together discussion roundtables comprised of Right-wing partisan opinion journalists such as Charles Krauthammer and William Kristol one one side and mainstream media journalists on the other –with a partisan Fox News host (such as Brit Hume) acting as supposed impartial arbiter. Though there have been others over the years, Juan Williams was perhaps the most frequent and notable of the "useful idiots" who compromized their employers' credibility and impartiality in exchange for lucrative face time on Fox News.
The move is long overdue.
Add a Comment
Please
log in
to post a comment