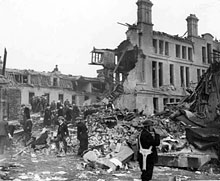 As London prepares to celebrate the 70th anniversary of the Blitz, parts of London are engulfed in flames as rioters engage the police after a father being shot to death by a policeman provided an excuse for looting (pronounced Loo-ting for those unfamiliar with the English Tongue).
Here is a linque to a West London newspaper featuring pictures and a blow-by-blow account.
BTW. When reading of riots please try not to snigger at place names. Yes, there really is a placed called Chingford Mount (Ching-ford Mount). Same goes for Dorking (Dork-ing) and Wapping (Wop-ing. And no, that does not mean Italians live there). Tottenham is pronounced Tott-num. Enfield is pronounced En-field.
When asked to comment, Margaret Drabble (Drab-ull) admitted that she had heard of Brixton (Brix-ton) but had never actually been there. "So long as Hampstead's (Hamp-sted) safe we'll manage somehow," the celebrated lady novelist opined. "Has anyone seen Piers Morgan (Ass-hole)?"